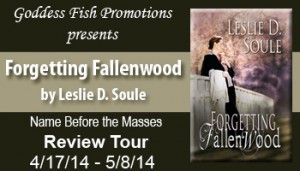 This post is part of a virtual book tour organized by Goddess Fish Promotions. Leslie will be awarding a $25 Amazon gift card to TWO randomly drawn commenters during the tour, so make sure you visit with her today. Click the banner to see the other stops on the tour.
READ THE INTERVIEW
What is the favorite book you remember as a child?
Mattimeo, by Brian Jacques – I got this book for free in elementary school. They were doing a book giveaway to promote literacy and it's been one of my all-time favorite reads. The cover's so bent up that I've had to repair it completely with packaging tape just to keep it together.
What is your favorite book today?
Currently I think my new favorite is The Hunger Games by Suzanne Collins. I love the skill she displays in her use of the first-person narrative (traditionally a difficult style to write in). I also have a fondness for the dystopian novel genre, after one of my Master's degree classes was a Utopia/Dystopia course.
Tell us about your current book in 10 words
.
Forgetting Fallenwood is a book about refusing to accept mediocrity.
What are you reading right now?
I'm currently reading Eat, Pray, Love by Elizabeth Gilbert. It's an excellent novel in which the author writes about her journey through Italy, India, and Bali in her search for happiness and contentment.
E-Reader or print? and why?
To me, it doesn't really matter, though I tend to prefer print books because I'm so used to them and to the feeling of having a book in my hands. I like to stop and look at where I'm at in a book and have a feeling of accomplishment when I pass the halfway mark, and things like that.
Favorite place to read?
Preferably somewhere quiet in the woods, like up in Crescent City in northern California, where the woods are so peaceful that thick layers of dust settle on the ferns.
Favorite book to recommend?
I'm a fan of Aubrie Dionne's work – she's created some brilliant sci-fi novels and I'd like to recommend them to readers.
Keep books or give them away?
KEEP THEM!!! Personal libraries have been so important throughout history in the preservation of classic works of literature, such as the tale Sir Gawain and the Green Knight, found in a personal library called the Cotton Nero library. History has been plagued with library fires (the mention of the burning of the Great Library at Alexandria makes me weep on the inside).
READ THE BLURB:
What happens when Ash accidentally makes her way through another portal, this time into the Other Realm, and forgets she ever went to Fallenwood? More importantly, how much of one's identity is made up of memories? Fallenwood 2 is the continuing journey of heroine Ash Kensington. Struggling with a deep sense of grief, sorrow, and overall confusion, Ash tries to work her way through to a deeper, underlying meaning. This search leads her back to Fallenwood, where the mystery unravels itself as she realizes that a very sinister force may be underlying everything…
ENJOY AN EXCERPT:
As she approached the archway, she looked through it and saw the open sky beyond, with clouds that looked soft as cotton. A guard stood next to a bronze plaque with the words "Invisible Bridge—take a leap of faith!" He smiled as though radiating an inner light and Ash felt drawn to the challenge like a moth to a bug zapper. She took a deep breath and was about to take a step out onto what appeared to be nothing, when she felt the strong hands of Terces, pulling her back by the shoulders. She also felt a small force tugging at the leg of her jeans. She felt herself pulled backward several feet and then saw Terces's brown eyes boring into hers.

"The invisible bridge is a trap for the unwary. The clerks of the Tower are trying to kill you."

Ash gasped at the realization of what she'd nearly done. She seated herself on the ground. "I'm so sorry. I need a moment."

Greymalkin walked up and pressed his nose up to hers. Then he swiped her across the face with a paw. His eyes narrowed. "Who do you think you are—Indiana Jones?"
Leslie D. Soule is an author who loves to try new genres and Sacramento, California is her hometown. She has an M.A. in English from National University and is a member of the English Chapter of the Sac State Almuni Association. She is currently working on her fantasy quadrilogy, The Fallenwood Chronicles.

Website link: www.lesliesoule.com

Twitter: @Falcondraco

Facebook: https://www.facebook.com/pages/The-Fallenwood-Chronicles-by-Leslie-D-Soule/177827352253328

Buy Links:

Amazon: http://www.amazon.com/Forgetting-Fallenwood-Leslie-D-Soule/dp/1612356842/ref=sr_1_1?ie=UTF8&qid=1392247354&sr=8-1&keywords=Forgetting+Fallenwood

Melange Books: http://www.melange-books.com/authors/lesliedsoule/ForgettingFallenwood.html