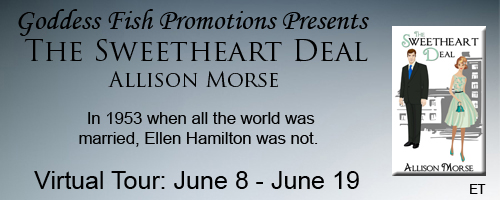 This post is part of a virtual book tour organized by
Goddess Fish Promotions
. Allison will be awarding $25 Amazon or B/N GC to a randomly drawn winner via rafflecopter during the tour. Click on the tour banner to see the other stops on the tour.
READ THE BLURB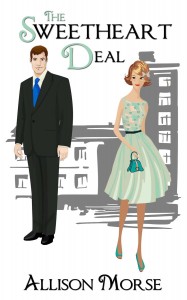 Some people in her small rural community think Ellen Hamilton, the business savvy daughter of the town's largest employer, is too big for her britches. After all it's the 1950s and women have no place in running corporations. But when the company is threatened with takeover by John Adair, the man who broke her heart and "betrayed" her family business years ago, she's determined to stop at nothing to win. Yet, when the cool Ellen turns molten in John's arms, will she discover the truth about the past in time to seal The Sweetheart Deal.
READ AN EXCLUSIVE EXCERPT
Where would their lives be now if she had just believed him? If she'd been brave enough to take a chance?
As if John could read her mind, he said, "We can't change what happened, Ellie. I wish we could." He turned from her and walked away.
She watched him go until he turned a corner.
She felt herself retreat, fold in, as she reached inside for someplace safe, away from the pain.
Voices sounded behind her. She turned and saw a group of guys she recognized from the factory tumbling out of the bar. Most of them shuffled unsteadily, except for Doug.
He'd worked at the factory since he was a teen. The guy always made her skin crawl, even though to the Hamiltons, he was nothing but respectful.
The large man trailed a younger one, bullying him. She remembered that it was Doug who had been in the center of the jeering gang of men who had threatened Cindy the other day until she'd been rescued by Trigg.
Ellen looked back to where she'd last seen John, and her godfather's words came back to her. Time to choose what is worth fighting for.
Yes, it was.
And she knew how to do it, too. She wasn't Sam Hamilton's daughter for nothing. She had a plan of her own. In fact, from the moment her father had mentioned the innovative tank design, an opening in the game had winked at her, one that was amusingly obvious, even in the midst of all the maneuvering and double-dealing going on around her. She had seen the moves necessary. Simple, really. Success was within her reach. She just hadn't had the will to execute it, until now.
She smiled up at the black sky, almost taunting it with her unwillingness to allow her heart to break.
She was in love with John. Always had been. And she saw no reason to try to change that fact, even if she could.
And with that certainty, she now knew what was worth fighting for, what was worth winning. This town, her family, faults and all, were worth it.
She ran down the sidewalk.
When she turned the corner, she saw John's blue convertible peel away and head out of town.
And, you, John Adair, you're worth it.
MEET THE AUTHOR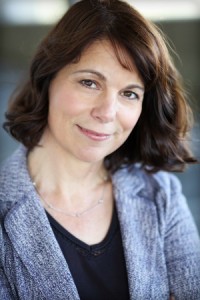 Allison Morse grew up in a family of actors in Los Angeles; before the age of five, she started acting classes, which she adored. She continued in the family business until her early twenties when her curious spirit led her to consider other interests.
After receiving a B.A. from U.C. Berkeley, she went on to earn a M.A. in Marriage and Family Therapy, and a J.D. from U.C. Hastings College of the Law.
Although she loved learning from each of her varied careers she always knew that storytelling was as essential to her as breathing. So as she pursued her professional life, she kept to a strict writing schedule, and joined the Romance Writers of America and Sisters in Crime.
She lives with her wonderful husband in a house in the hills that's filled with books.
Allison can be contacted at
http://www.allisonmorseauthor.com
.
Buy the book at
Amazon
or
The Wild Rose Press
.
ENTER THE GIVEAWAY
a Rafflecopter giveaway