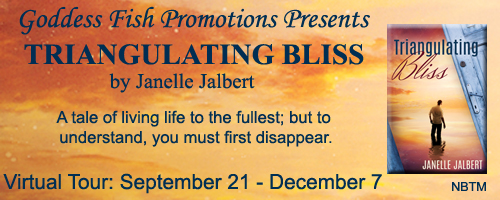 This post is part of a virtual book tour organized by
Goddess Fish Promotions
. Janelle will be awarding a $20 Amazon or B/N GC to a randomly drawn winner via rafflecopter during the tour. Click on the tour banner to see the other stops on the tour.
READ THE GUEST BLOG
Favorite Books/Authors
For this visit, I decided to do a flashback through my reading history, starting with my first literary addiction and journeying through the stories, authors, and series that have shaped my reading and writing. It's a diverse list though it does skew towards my guilty pleasure…romances with a HEA ending. What can I say? It's my girly side surfacing.
How the Grinch Stole Christmas
– Dr. Seuss
I had to include this one, though my first books were a set of Dr. Seuss stories in four mega volumes. My poor dad suffered through reading this story to my sister and me at least once a week (sometimes more). Who can deny the Grinch's adorable mutt with the horn tied to his head…gotta recognize a loyal pup! The other most read story was
Urtle the Turtle
as it was my sister's favorite while she had to sleep in a body brace for her severe scoliosis.
Sweet Valley High Series
– Francine Pascal
This series was responsible for my pursuit of writing. The "good" twin, Elizabeth, wanted to be a writer, and after reading about twenty books in the series, I had the lightbulb moment with the exclamation, "I wanna do that!" I started writing one page serials for my friends that day.
It
–Stephen King
Anyone of a certain age remembers that it was virtually a rite of passage to tackle this one. Steven King is a master of letting a reader's imagination fill in the blanks (usually with more horror than he would have written). I learned a lot about the art of showing, telling, and withholding from reading his books. This was the benchmark, though my sentimental favorite is probably
Firestarter
since that was my introduction to the world of Stephen King.
"The Lottery" – Shirley Jackson
Okay, this isn't a novel, but it's the top read that has stuck with me since high school. A classic! The twist is one that mirrors many recent Y.A. favorites in both books and films. I even made it a point to teach this story on the first day of classes when I returned to my alma mater and taught American Literature.
Eric Van Lustbader
My dad introduced me to Van Lustbader's works with
Angel Eyes
. From there I was sucked into the whole
Nicholas Linnear
series. I loved the action and adrenaline combined with the intrigue. Reading this series lead to a trip to Japan. Like many of my traveling escapades, that trip was fueled by a story that I read.
Coast Road
–Barbara Delinsky
I became a romance addict in the 90's and began to consume them like candy, but this read always stayed with me. It's one of the few hardcover guilty pleasures that I have kept in my collection. The characters spoke to me on a deeper level and even fueled an obsession of escaping up to Big Sur when possible. Another one of Barbara's books has also survived the digital revolution in my library;
The Vineyard
is a solid runner up to Coast Road.
Eat, Pray, Love
– Elizabeth Gilbert
Okay, this is another 'woman of a certain age' pick. I enjoyed it enough to keep it on my shelves, but it took nearly a decade for this one to fully hit home in my life. I'm not sure about her other works but this one along with
Under the Tuscan Sun
by Frances Mayes are quintessential reads for women moving into a new phase of life (I refuse to say middle age!)
The Art of Racing in the Rain
– Garth Stein
This is a book with a personal history that hits two passions of mine: pups and racing. I picked it up when I was living in North Carolina while covering NASCAR, and it sat on the end table after a feeble first attempt at a read. I was living life with my dog Goose at the time, and he was my world. A year later, when I moved back to California, I gave this one another try and couldn't stop reading. It hit home in a special way. (You've gotta love the giraffe incident!) This book along with
Marley & Me
and
A Dog's Purpose
all helped inspire my next release WING DOG: SOUL PUP, due out in spring/summer 2016.
Treading Water
Series – Marie Force
I read books 1, 2, and 4 on a binge read months ago and only recently returned for book 3. At the time, the third book seemed like a detour from the family storyline between mother and daughters. I like the diversity in the circumstances of each installment even if mom's medical condition was predicated on a circumstance that I was not a fan of reading about. I've since read several of Marie's books and enjoyed them, though I have found that the earlier books tend to share a similar thread in verbiage and character set up. They are enjoyable escapes, which was the intention for winding down after long days plugging away at the computer.
The Color of Heaven
Series – Julianne MacLean
The Color of Heaven came to me at a tough time when I was dealing with the passing of both my dad and my sister as well as battling to pitch TRIANGULATING BLISS. The story spoke to my soul on a personal level while giving me hope that my kind of writing had an audience. I've read most of the series, but
The Color of Heaven
and
The Color of Time
are my favorites.
Pelican Pointe
Series – Vickie McKeehan
I have to admit, I got sucked in on a free book day with book 1 (
Pelican Pointe
) and am glad I did. Not only am I happy to find and support other writers who write in this mix of genres that include romance, magical realism, paranormal, and mystery, it's what I love to read. I've read almost all of this series and love the humor and interplay between Scott and the residents of Pelican Pointe. This series is one that always makes me stop and detour for a pleasant diversion when I see an installment that I haven't read.
There you have it. I had to leave many of my favorite "book babies" off the list for the sake of brevity. After decades on this earth, of which I have been a bibliophile for all but 4 or 5, that is bound to happen. Consider this the highlight film though the documentary version could indeed fill an entire library. I hope that I piqued your interest in a new/old read or brought a smile to your face with a happy book memory.
READ THE BLURB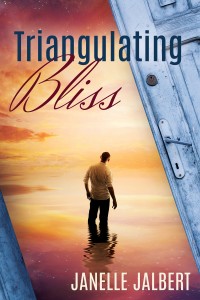 A struggling veteran reads about the mysterious death of a local athlete and wants to learn more. He meets the owner of the business linked to the crime and discovers others have "disappeared".
All stories include a man with dark hair, blue eyes, and a strong jaw.
Then, it's his turn.
The mysterious forces at Bliss change everything. What brought them all to Bliss is not as it appears and their lives are powerfully interconnected across space and time.
READ AN EXCERPT
Greg's hand shook. It wasn't enough for the woman behind the counter to notice though. It wasn't from his morning caffeine rush. He'd skipped his morning pick-me-up in favor of completing the mission in short order. It was too many months overdue.
The pen slipped from his hand, more from the sheen of perspiration than the shaking. Get it together man! He shouted within the confines of his mind. You're a soldier…were a soldier. Man up! You want to do this. The decision's been made. Sign it. He grabbed the pen once again, and let it flow automatically across the paper.
The woman took the form, and her nails began clicking away on the keyboard. Her eyes darted between the form and the computer screen. Seconds, maybe minutes, passed. Greg wasn't sure. There were no clocks to tick off the time, just the woman's ping-ponging eyes. Greg felt the weight shifting, finally, and continued to wait. Complete relief, however, remained elusive. I took the plunge…took action…that's what matters. He reassured himself. It'll just take some time.
"Here you go," the woman gave a tight, polite smile. "It's official. If you need transcripts, it will take 7-10 days for your records to be updated."
"Thanks," Greg took the paperwork and turned towards the door. It was deceptively simple. Law school was officially part of the past, yet the weight of expectations remained.
MEET THE AUTHOR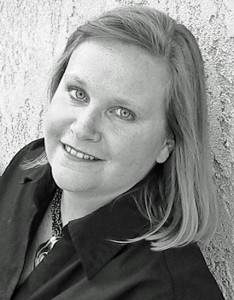 Janelle Jalbert has ghostwritten 15 nonfiction books on topics ranging from productivity, money management, marketing, cooking, and relationships. She also worked as a copywriter for some of the biggest online names and worked as a motorsports reporter covering NASCAR. Jalbert enjoys bringing stories to life that celebrate the magic in everyday living. To learn more about her current and upcoming releases and promotions visit www.janellejalbert.com. Jalbert currently lives in Southern California, though she regularly returns to her second home in North Carolina when her pack of pups grants her a vacation.
The "Bliss Challenge" is an effort to take the spirit of the novel's beloved character, Lois, and help make wishes come true. Ten percent of the proceeds from Triangulating Bliss and 100% of the proceeds from the novel's companion guide,
The Backdoor to Bliss
, will be given to a Make-A-Wish program voted on by readers. Selections are based on reader votes for their favorite characters: Los Angeles for Greg, Henri, and Mikel; Chicago for Lois; Charlotte for Jen; and New York for Richard. The goal is to grant at least one wish for a child in the winning city based on funds raised from the novel and guide. Voting and challenge updates can be found at
www.TriangulatingBliss.com/BlissChallenge
.
Twitter:
http://www.twitter.com/justjjwriting
Facebook:
http://www.facebook.com/janellejalbert.author
Website:
http://www.janellejalbert.com"
Goodreads:
http://www.goodreads.com/Janelle_Jalbert
Amazon Author Page:
http://www.amazon.com/Janelle-Jalbert/e/B00Q5MD7AW
Barnes and Noble Author Page:
http://www.barnesandnoble.com/c/janelle-jalbert
Author's Extras:
http://synchron8publishing.com/triangulating-bliss-launch
Buy the book at
Amazon
or
Barnes and Noble
.
ENTER THE GIVEAWAY
a Rafflecopter giveaway