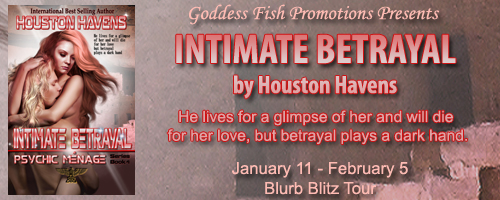 This post is part of a virtual book tour organized by
Goddess Fish Promotions
. Houston Havens will be awarding two winners a choice of one of the first three books in the Psychic Menage series to a randomly drawn winner via rafflecopter during the tour. Click on the tour banner to see the other stops on the tour.
READ THE BLURB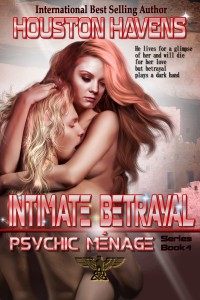 Kindise Wyatt escapes her Star Rider captor and returns to Earth. With the help of a sexy Old World Mole and his mysterious friend, she's determined to uncover the whereabouts of her lover. Instead, she finds nothing but betrayal and her captor in pursuit.
On the lam after betraying his evil ruler, ex-Dirt Dweller and drifter Jaden Valenti confirms his name is on a hit list. Finding what he believes will be safety amongst the Airbornes, he recreates himself and hides his past until trouble walks back into his life in the name of Kindise Wyatt, the woman he was ordered to assassinate and didn't.
Due to the obsessions of a Fae woman Sori gave up his hardearned royal title and left his homeland of Elfame. Love is the furthest thing from his mind until he is sent in Jaden's place to pick-up some cargo...human cargo in the form Kindise Wyatt. He feels the Fae magnetism of his soulmate in her. Problem is; she's in love with someone else.
Will Jaden fulfill his orders to kill Kindise and get his name removed from the list, or will his secret be exposed and betray the friendship he has with Sori? Does Sori help Kindise find her lover, or will a love between them have a chance to flourish before a fatal attraction and a determined captor rip their love asunder? Will Kindise find true love or will betrayals at every turn crush the fight out of her? Can she find her inner strengths to keep fighting and lead The Freedom Fighters to defeat the Dirt Dweller elites, once and for all?
READ AN EXCERPT
"Are you all right?" There was a keen glint in his Fae friend's eyes as he gauged the amount of remaining whiskey in Jaden's bottle.
"I'm fine." He leaned back into his chair feeling as if he were sitting on a bed of fire ants.
"You sure? That's a nasty bruise on your chin--"
"I said--I'm fine." He was ready to smack the smirk off Sori's face if he didn't stop pointing out how much he was out of his comfort zone. An experience he wasn't used to having. Calculated control was his norm. This? This edginess was extremely out of his usual suave self. "What do we need to talk about?"
His friend's smile widened before fading into peaked brows of obvious confusion. "I assume you'd like to know why Shomar asked for your help."
"I see her."
"Okay, then maybe you'd like to know what she needs help with."
"Isn't that the purpose for why we're sitting here?"
"It is." Sori chuckled. "Seeing you once worked for the Underworld government as a research and file clerk, Shomar felt you'd be the perfect man to help Kindise find her lover."
Lover! She has a lover? In all his surveillance, he'd never seen her display any form of public affection to anyone. His heart stopped for a nanosecond as disappointment rested heavy at the center of his chest. Maybe it was his Dirt Dweller upbringing, but he always fantasized about being her first. He shook off his regret as his dream vanished.
MEET THE AUTHOR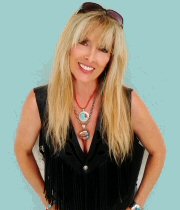 Erotic romance author Houston Havens, a former successful model enjoying an adventurous jet-set lifestyle, intrigues her readers with a mix of the past, present, and future, and sexy blends of futuristic science fiction, paranormal fantasy, and western romance, always with love everlasting. A tenacious Irish lass filled with passion and mystery hopes her sultry stories will entertain and fascinate those who dare to take the journey. She's also a social media junkie with an award winning blog. http://houstonhavens.wordpress.com
Website:
http://houstonhavens.com
Blog:
http://houstonhavens.com/blog
Twitter:
https://twitter.com/HoustonHavens
Facebook:
http://www.facebook.com/HoustonHavens
Newsletter Sign Up:
http://houstonhavens.com/vip/
Amazon Author Page:
http://www.amazon.com/Houston-Havens/e/B00J1T0QY6/
Tsu:
https://www.tsu.co/HoustonHavens
Google+:
https://plus.google.com/u/0/104340584560714468515/posts
Tumblr:
http://houstonhavens.tumblr.com
Booklikes:
http://authorhoustonhavens.booklikes.com
Goodreads:
https://www.goodreads.com/user/show/24819699-houston-havens
Pinterest:
http://www.pinterest.com/houstonhavens
YouTube:
http://www.youtube.com/channel/UCuOpU6OsngnhTac_JvTLItQ
Buy the book at
Amazon
or
Barnes and Noble
.
ENTER THE GIVEAWAY
a Rafflecopter giveaway